CANYONING CAN BE DONE ALL YEAR ROUND
The Canal Pianone is an evocative place, in the heart of the Alpi Apuane
A beautiful and breathtaking canyon, carved by water over millions of years, where now no water flows.
A unique environment, made of fantastic abseils on marble white rock.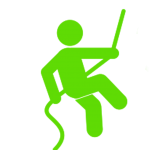 IN WINTER TOO
There are many activities that can be carried out in winter as well, from Dry Canyoning to Caving, to Speleo-canyoning, completely immersed in Nature. A great way to unwind
DISCOVER THE UNDERGROUND WORLD
OUR SPELEO-CANYONING ROUTES
Inside the elements, discover an underground world, unknown to many.
A unique adventure that will reveal the hidden side of our Tuscany.
CORCHIA ADVENTURE
The wildest side of caving in Tuscany
A veritable trip inside the Earth, from vast grottos to narrow passages that will leave you breathless.